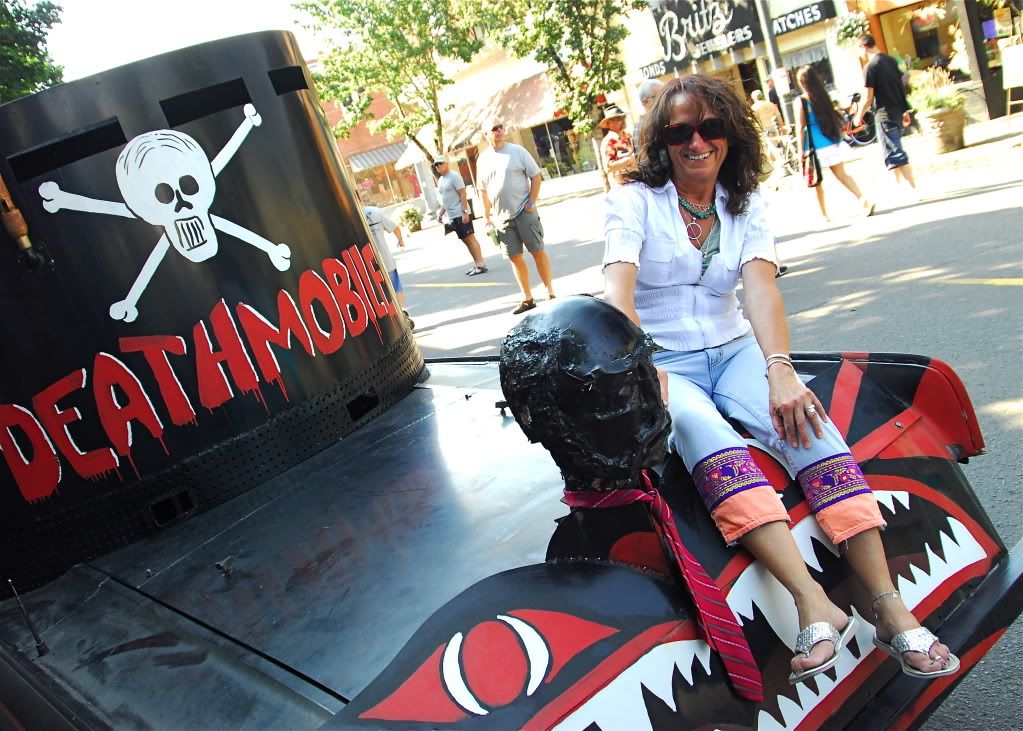 This past summer we were very busy with so many local events happening in Cottage Grove. One of the last big activities that we were involved with was the
Cycle Oregon Bicycle Tour
. They started off this year's ride in Sutherlin and made their first stop in Cottage Grove. Our band had the pleasure of performing in the downtown area where Main street was closed off'.
Many vendors set-up booths and lots of bicyclists and visitors wandered in and out all day to enjoy the food, unique shopping and of course stop and listen to our music. It was fun to see the bicycle riders come by and stop and listen and some even did a little dancing.
Another fun and unique thing we got to do was visit the famous Deathmobile from the movie Animal House. Many people stopped by to have their picture taken with the historical movie car and of course we did too.
So now we are ready to kick back for the winter season and work on more music. Now with Linda Danielson, our new fiddle player joining the band, we are looking forward to some new and exciting songs to work up. We are very happy and fortunate have Linda join our band and I will have more on that in the future, so keep checking back for more news and band performance dates!
Pictures courtesy of Sarah Craig of So Fresh Photography.com == Thanks Sarah!